Home

»

pomorskie

(131)

»

Lębork

(2)
On-line booking
Types of accommodation
Accommodations in Lębork
City: Lębork
Type: Road Houses
"Zajazd Kaszubski" (Kashubian Inn) at Lubowidz near Lebork on the E-28 Highway (Szczecin - Gdansk) 6 kilometres off the town of Lebork in the direction of Gdansk, situated on forest skirt near the Lake...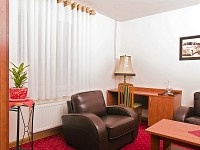 Vega is a modern facility equipped holiday and characterized according to the latest trends in hotel industry in the world. With comfortable rooms and suites and a restaurant renowned for its good cuisine...
From 150 PLN / per room
Salino
(~18km from Lębork)
City: Salino
Type: Summer Houses
A summer house at the Salinskie Lake, 20 km from the sea, for 6-8 people, comfortably equipped. Two bedrooms, living-room (with a fire-place), kitchen (fridge, cooker, microvewe oven), terrace. A place...
From 25 PLN / per person
Czarna Dąbrówka
(~24km from Lębork)