On-line booking
Types of accommodation
Hotels in Kętrzyn
Our guests we can offer accommodation in single, double and three-bed rooms and one suite. The hotel restaurant waits for you with the great variety of delicious dishes from Polish and regional cuisine....
From 100 PLN / per room
Mrągowo
(~24km from Kętrzyn)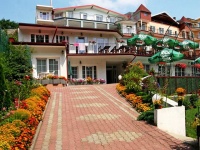 Our hotel is located directly by the coast line of Lake Czos. The hotel premises are separated from the lake solely by an illuminated pedestrian and bicycle promenade leading to the city centre. Hotel...
From 95 PLN / per room