Home

»

warmińsko-mazurskie

(81)

»

Kętrzyn

(2)
On-line booking
Types of accommodation
Accommodations in Kętrzyn
City: Kętrzyn
Type: Road Houses
Our pension is situated near by medieval castle, in XIX century house, on foundations of the tower, part of the town fortifications. We proffer four 4-person rooms with bath, phone and satellite TV.
From 100 PLN / per room
Our guests we can offer accommodation in single, double and three-bed rooms and one suite. The hotel restaurant waits for you with the great variety of delicious dishes from Polish and regional cuisine....
From 100 PLN / per room
City: Ryn
Type: Guesthouses
The Pension is surrounded by a 10 years old stand of trees - pines, spruces, red oaks, larches, maples and birches overgrow the area of 1ha. The Pension Sarmacja is a very private and family house. It...
From 160 PLN / per room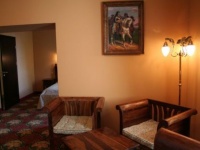 City: Ryn
Type: Castles, Courts, Palaces
The Hotel CASTLE RYN**** is a Teutonic Kinights Castle converted into a Conference- Holiday Centre which ovelooks the town Ryn, lovely situated on the isthmus between two lakes Ołów and Ryńskie, on...
From 280 PLN / per room
Mrągowo
(~24km from Kętrzyn)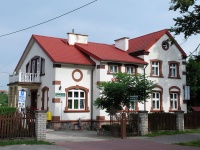 City: Mrągowo
Type: Guesthouses
We invite you to Mrągowo. In periphery of Mragowo, between Czos and Juno Lake, there is a Hotel Gosciniec Mazurski that gives you a possibility to spend a great holiday in Mazury region. We offer single...
From 90 PLN / per room
City: Mrągowo
Type: Guesthouses
Welcome to Zielony Domek hidden in old trees' boughs next to Juno Lake in Mrągowo. A wooden house, built in 1937, former Rybaczówka - a fishing farm house, was reconstructed with the preservation of...
From 70 PLN / per room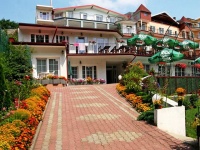 Our hotel is located directly by the coast line of Lake Czos. The hotel premises are separated from the lake solely by an illuminated pedestrian and bicycle promenade leading to the city centre. Hotel...
From 95 PLN / per room
Giżycko
(~25km from Kętrzyn)