On-line booking
Types of accommodation
Hotels in Ełk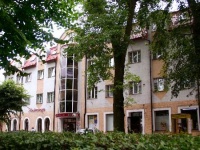 "Rydzewski" Hotel is situated in the centre of Elk near a bus terminal and a train station. (PKS and PKP). We provide accommodation in cozy and comfortable rooms for tourists who either aim at recreation...
From 150 PLN / per room
We would like you to visit Olecko and stay in our hotel KrystJan. If you like masurian scenery, enjoy resting in peacefull athmosphere, hotel KrystJan is an ideal place for you. The hotel has 57 bedrooms...
From 70 PLN / per room